Ostional Turtles
OSTIONAL WILDLIFE REFUGE TURTLE MONITORING AND HARVESTING
The Embassy of Costa Rica in Washington, D.C. has been receiving notes of protest with regard to an article with inaccurate information that has been published and shared among many. This article is about the Ostional Wildlife Refuge in Costa Rica, which was declared a protected area in 1982. It includes pictures of the humble villagers of Ostional collecting Olive Ridley sea turtle eggs, which were taken in broad daylight.
The Development Association of the Ostional Wildlife Refuge (ASIO) permits and monitors the harvesting and marketing of the eggs hatched only by the first wave of sea turtles (known as the arribada). Prior to the legalization of egg harvesting and marketing, selling turtle eggs was out of control. Also, scientists from environmental organizations and from the University of Costa Rica found that the first wave of eggs laid was often excavated by turtles arriving after the arribada or by high tides. Scientists also found that if the first eggs were not excavated, they contaminated the healthy eggs left by turtles arriving to the coast after the arribada or exposed all eggs to environmental factors, and were devoured by pigs, dogs or vultures.
In 1987, these scientists along with Government officials began to develop a project that allows local people through community cooperatives to legally collect and sell a percentage of the eggs from the first three days of each arribada. Since then, the population of these sea turtles has gradually increased.
Therefore, harvesting the first eggs laid facilitates the survival of the subsequent waves of eggs laid after the arribada. Moreover, thirty percent of the income from the primary egg harvesting is used to pay the guards that patrol the nesting beaches and also invested in research to better understand and care for the turtle population.
Ostional Wildlife Refuge is the only place in the world where it is legal to harvest turtle eggs. The project can be visited by guided tour groups. The best time to visit is just before and during an arribada, which is usually at the start of the last quarter moon. Even though these turtles arrive throughout the year, the best months to visit are from July until December, during the rainy season.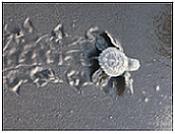 If you would like learn more about the Olive Ridley sea turtles at the Ostional Wildlife Refuge and the organization's environmental principals and policies please visit the website:
http://www.costarica-nationalparks.com/ostionalwildliferefuge.html